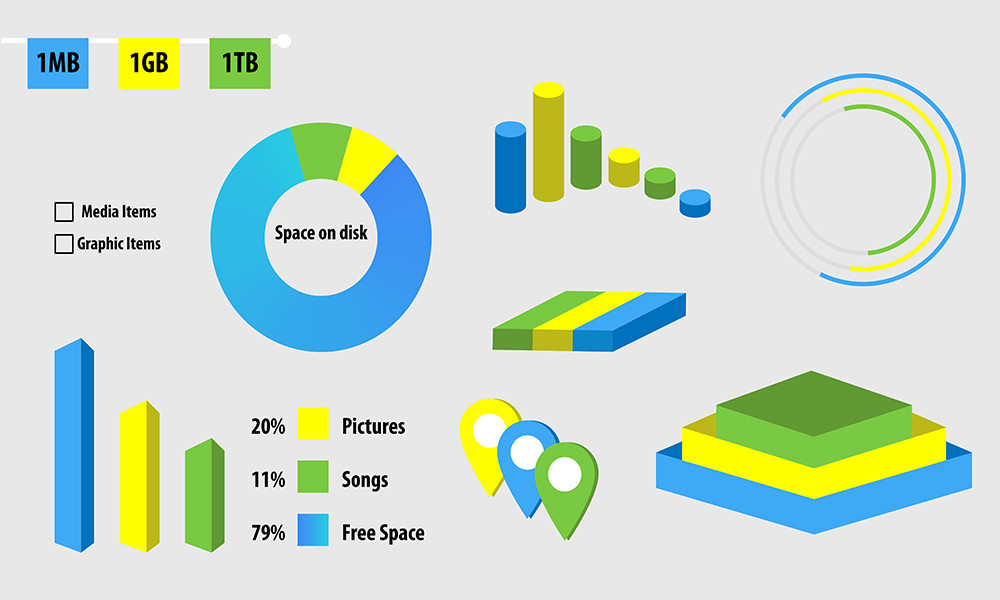 Before we move on to explain the disk space, we must mention that it is used when it comes to web servers, but also when that space refers to a hard drive of a device. First of all, we emphasize that the term web server refers to those devices that have a continuous connection to the Internet and that serve certain websites and other web content to have their space in order to be visible online. In general, web servers are divided to those operating on the Unix system, and those that use exclusively Microsoft systems. We note that the content of any website or blog, that is, any material that is online, is actually stored on a particular server. For this reason, we are talking about disk space as the amount of data available for each individual client. And that means that a particular website, that is, its owner, gets from the hosting company, for example, 4 gigabytes of disk space, which is actually 4 000 megabytes, which then means he is allowed to have this amount of texts, photos, videos and similar content stored on a particular disk.
In order to be possible to precisely calculate what the utilization of the disk space is, it is necessary to know first how many stored documents and other content on a particular server there are, and then it is certainly necessary to add space for emails or database.
In a situation when it happens that some client wants to save more content than allowed, that is, if he needs more disk space, he should know that if he does not pay a larger package with a web hosting company, he will certainly not be allowed to store new content on the particular server. Also, the term disk space refers to the hard disk of a computer, that is, the total available memory for storing files of different types.
We must also point out that it is very important to choose a good hosting company, that is, the one that owns servers, and it is certainly not recommended that customers choose those internet providers that actually lease space on a server from the right providers and further sell it to customers. The main difference is that those hosting companies that own their own servers can offer clients services like continuous support, and it is worth mentioning that their specialists particularly take care about maintaining and improving the quality of services. And it is also important to choose the right package or opt for the option that allows enough disk space so that the client can put all those contents he considers necessary.
It is good to note that there are several types of hosting servers, so it is very important to inquire before making a final decision. On this occasion, it is necessary to opt between the so-called dedicated hosting server or shared hosting, as well as VPS (Virtual Private Server). Although VPS is, in principle, the most expensive variant of hosting, it is the best option, especially for some more demanding sites. Therefore, make sure to pay attention to how much disk space is available in order to avoid the situation that you need to change the package of hosting services to make your site work the way it should.