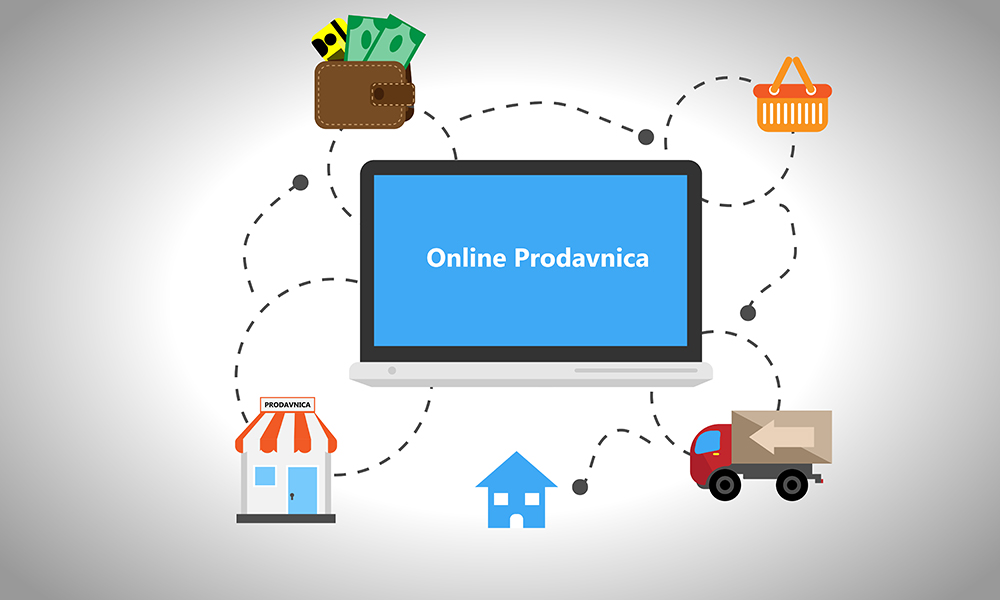 The term online store is, the most simply put, the store of services or products on the global network.
According to the official definition, an online store is an integral part of a process known as online shopping. Online shopping involves a process in which visitors can buy certain products or services offered within an online store.
Within the online shopping system or online store, there are three most common ways of doing business: B2C (abbreviated from business to consumer), which implies that the online store process takes place between the buyer and the entrepreneur, that is, the manufacturer or service provider, then B2B (abbreviated from business to business), in which the online trade process takes place between two entrepreneurs, and the B2B2C method developed as a kind of combination these two online trading methods, which is shortened from the English terms business to business to client, which means that online trade takes place either between two entrepreneurs or between a buyer and an entrepreneur, provided that in this mode of trade there is also an intermediary between them.
It is this third method that is also the most commonly used in modern online stores. The fact is that internet trade makes it much easier to buy certain products and services. However, it should not be forgotten that it is not a direct trade, there are numerous shortcomings, which most often relate to the issue of the quality of the products offered in an online store. This particularly refers to the purchase of clothing related products, for example, because it is very often that the picture of the product the user can see online does not fully comply with the product. For this reason, many intermediaries in the field of Internet trade on their websites also indicate the possibility of returning goods. However, this is just one of the possible inconveniences customers who use the online store services can face.
Within most online stores, payment can be made by all payment cards. But this is largely related to online stores operating on the domestic market. For those who are world leaders in this type of trade, it is usually necessary to have a special card for online payment, which makes it much more difficult to use the services of such online stores for domestic users.
Although online stores are the increasingly present manner of buying different products and services, issue related to the safety and security of this kind of purchase can often be heard. Of course, given the fact that the Internet is practically open to everyone, it can always happen that someone misuses user data. For this reason, almost every online store should have a special program that protects information and guarantees the safety of user data, as well as the prevention of unauthorized changes to stored user data, but also the ability to verify user identity. Accordingly, almost all online stores should use encryption methods in order to better secure information the user entrusts to them.
In addition to the above-mentioned online store types, there are also: C2B from English terms consumer to business, within which online trade is conducted by a buyer who asks for a specific service or product from a seller stating its own requests (for example, a budget it has for the purchase of a particular product or service), C2C (consumer to consumer), which is an online auction-like store, taking place between two users, B2A from English words business to administration, whose main business segment is the execution of financial transactions between entrepreneurs, i.e. companies and numerous state institutions, C2A from English words consumer to administration, referring to all necessary transactions an individual has towards different state authorities, B2E (business to employee), intended primarily for employees within a particular company and P2P (peer to peer), in the sense same to same, which is a specific way of common communication, but not online trade in the classic sense of the word.
Although most of these types of online stores are not widely used, at least not in our country, conclusions are constantly drawn that introducing the mentioned models of online stores significantly affects the facilitation of business, of both individuals, and entire organizations and state authorities.