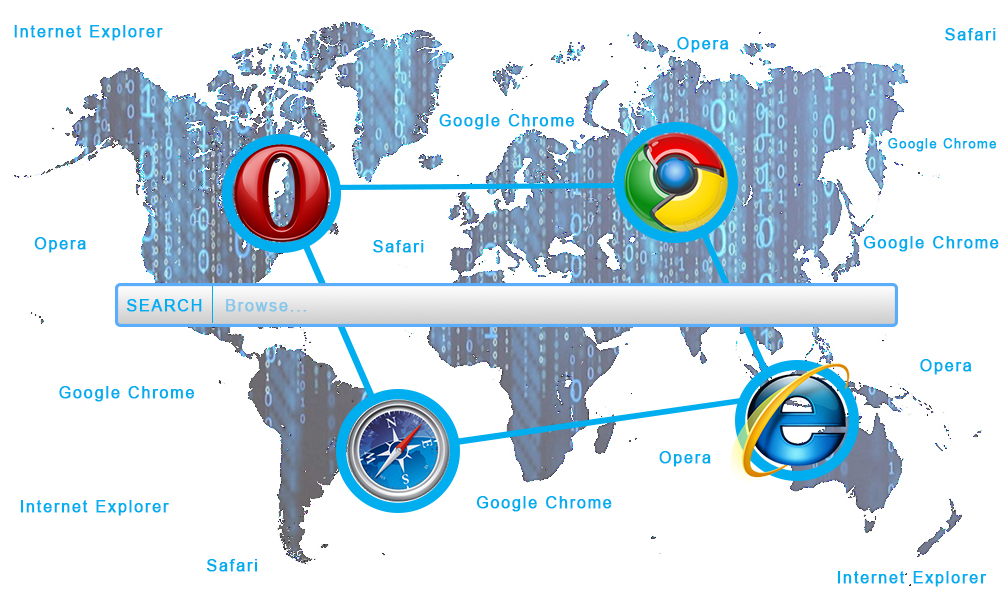 A special program that allows the user to browse the web pages, as well as all related contents across the global network is called the Internet Browser or Web Browser.
The basic division is in graphic and text web browsers. Text browsers were originally used and their primary purpose was to enable the user to read exclusively textual internet content. This type of Internet browser was created in the early 1990s and was developed by one of the CERN employees. Soon thereafter, a "Browser War" began, as many companies began to race who would make better and user-friendlier web browser. As a special subgroup within the text web browsers, we have specialized web browsers that are intended for use by blind or visually impaired persons.
A graphic web browser allows users to view visual or multimedia content in addition to textual.
According to the definition, the web browser is actually a performer and this word is actually derived from a French, that is, a Latin word meaning interpreter or exhibitor. In the domain of computing and informatics, this actually means that a web browser is a strong and large program, the basic purpose of which is to read and execute the orders given to it in some other programs, written in some of the so-called interpreter languages, with the goal of enabling all users easy browsing of web pages. Practically, this means that each website is written in a language, that is, a special code that serves to a web browser identify it first, so that it can translate it, or interpret it in a user-friendly page. Currently, a large number of different graphic web browsers are in use, some of which are allowed to be used only on certain types of devices or different operating systems.
The most commonly used web browser is Google Chrome, owned by Google. This internet browser is created on the WebKit software, which is an open source software. Within this free web browser, all users are offered a number of Google services. Some of them are: opening and using a free email address, activating Google Analytics, the ability to translate pages, and more.
The benefits of using the so-called open source code are great, so it is no surprise that the web browser of open source code Firefox has also gained great popularity and is also free. As a special link of this browser and a special free e-mail program known as Mozilla Thunderbird, "Mozilla" which is often referred to as only "Firefox" is also available.
The free Safari Internet Browser is intended for use on Apple devices. It is especially interesting that since 2007 there is a version of this web browser for use on the Windows operating system. In addition, "Safari" is used as the primary browser for Apple's famous iPhones.
Microsoft has its Internet Explorer Internet Explorer which is of closed code and seemingly less used because of its features, and its competition is web browser "Mozilla Firefox". Although at the beginning there were versions for other operating systems, the web browser "Internet Explorer" now exists only for "Windows". Until the end of the last century, this web browser was one of the most commonly used. Another free closed-source web browser is "Opera", which is the product of the name of the company. Within this web browser, a user can use e-mail, chat, contacts management, and many other functions. This web browser works on platforms such as Windows, Mac OS, Solaris, and Linux. When it comes to text web browsers, they are much less represented than graphic ones. Text Internet browsers "Lynx" and "Links" are rarely encountered. On the Linux operating system, a web browser known as "K - conqueror" can be encountered, while Macintosh uses text browser "OS X - y Safari".